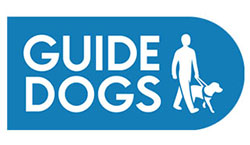 As many of you already know, in 2017 we raised £1800 for the Guide Dog Organisation.
With just a little more effort we could get to name our very own puppy, change a life & leave a legacy.
The name is the first gift that a guide dog puppy receives and is a chance for us to become part of their life-changing story. So here at Caradoc Coaches we are launching a new appeal to try and reach the monetary target necessary.
For JUST £5 you can suggest a name for the puppy, or for JUST £2 you can put a vote against a name already proposed.
*To donate you can put cash/cheque in sealed envelopes & hand to any of our drivers, by adding to card payments when booking trips/holidays or by mail to our address.
Obviously, the name with the most votes when we reach the target amount of £2500, is the one that we will put forward. But please note that the name chosen will be subject to approval by the Guide Dog Organisation (please bear in mind that someone will need to shout the name out loud regularly!)
The names proposed are listed below and the votes for each will be updated regularly, as will our total amount collected. When the target is met the website will show the winning name. Once our puppy is named, we will receive a puppy pack, including a photograph of our puppy and a birth certificate. Updates on the puppy's progress will be available here so that we'll be able to follow the education and then the pairing with an owner.
Proposed Names / Votes
CARADOC (14)
HOLLY (3)
CARA (2)
JENSON (2)
COOKIE (2)
SALLY (2)
MONTY (2)
CANDY (1)
PETRO (1)
For more information on The Guide Dogs for the Blind Association, click here